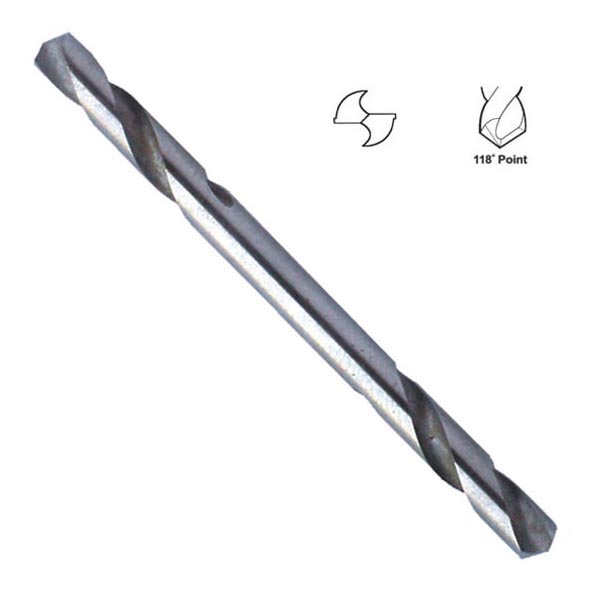 Metric HSS Double End Drill Bits

* Hardened high speed steel body provides additional safeguard.
* Industrial grade cobalt high speed steel are available on request.
* Double End Stub Drills are fluted and split pointed on both ends and have a solid center
shank for chucking. They will drill twice as many holds as a Single End Drill for only a fraction
more in cost. When one end gets dull or breaks, it can be quickly reversed in drill chuck to
reduce change-over time, overall costs, and inventory.
* 135 degree split point for quick start and no walk application.
118 degree point angle design for general purpose are available on request.
* Bright finish or Black oxide finish; Tin Coated are available on request..
* For drilling in steel, cast steel, malleable iron, sintered metal, non-ferrous metal and plastic.

Metric Size are available ( DIN Standard ):
Size

Flute

Length

Overall

Length

Size

Flute

Length

Overall

Length

2.5mm

10

43

4.2mm

14

55

2.8mm

11

46

4.3mm

17

58

3.0mm

11

46

4.5mm

17

58

3.1mm

11

49

4.8mm

17

62

3.2mm

11

49

4.9mm

17

62

3.25mm

11

49

5.0mm

17

62

3.3mm

11

49

5.1mm

17

62

3.4mm

14

52

5.2mm

17

62

3.5mm

14

52

5.5mm

20

66

4.0mm

14

55

6.0mm

20

66

4.1mm

14

55

6.5mm

20

70